Hot Bench
When a judge constantly interrupts the lawyers with questions while they are trying to make presentations it is called a "hot bench." The program Hot Bench is exactly that. A panel of three judges hear court cases and render verdicts. They frequently interrupt and even with each other. After hearing the case they go to a private room and decide who they believe. They then return and render their verdict.
Weekdays at 5:00 PM et/pt on Syndicated

4 Seasons,

417

Episodes

September 15, 2014

/

10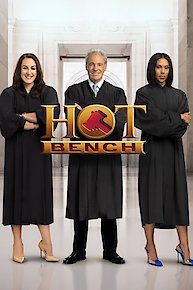 Hot Bench Full Episode Guide
Episode

173

-

Contractor's Bad Math Mess?!; Tenant ...

A landscaper accuses a former client of showering him with compliments but refusing to pay him; in an effort to recover her security deposit, a woman returns to her old apartment to take photos of her ex-landlord's repairs.

Episode

172

-

Ill-Timed Bathroom Visit Causes Flood...

Episode

171

-

The Human, Spanish-Speaking Pit Bull!...

Episode

170

-

Civil Rights Prop War!; Ex-Lover Slam...

An author says her uncle intentionally destroyed an old TV that was to be used in an upcoming play; a woman admits she accidentally hit her boyfriend's car, causing $4,500 in damages, but says his attempt to fix it canceled their insurance claims.

Episode

169

-

See No Bill, Pay No Bill!; Slippery R...

A violence victim offers up a flimsy defense when she is charged with owing more than $3,000 in back utilities she reportedly promised to pay; drinking, drug use and filthiness come into play when ex-roommates fight over their living arrangement.

Episode

168

-

World's Worst Friend?!; Injury Settle...

A woman says the car she lent to a friend was impounded and auctioned; a woman who was injured at work tries to cash her settlement check at her neighborhood grocery store.

Episode

167

-

Mourning Mom, Greedy Daughter?!; Torm...

A widow says she will donate her deceased husband's truck to charity rather than give it to the daughter who insists he left it to her; a college student surprises his roommates by taking off to Europe after telling them he had no rent money.

Episode

166

-

Daughter's Outrageous Debt!; Boat Ove...

A woman with excellent credit says she was contacted by a collection agency for her daughter's unpaid bills; a new boat owner accuses a repairman of shoddy workmanship.

Episode

165

-

Garth Brooks, Gymnastics and Ingratit...

A single mother-of-two takes in a friend, only to be sued for concert tickets and thousands of dollars; an absentee landlord blames the presence of rats in his rental on a tenant's partying and leaving the garage door open.

Episode

164

-

Engagement Ring Shocker; Camper Revam...

The truth comes to light about the purchase of an engagement ring; a man admits he failed to inspect a 23-year-old camper before he paid for it.

Episode

163

-

Preying on the Disabled?!; Half Siste...

A disabled man is allegedly scammed out of thousands of dollars; a woman seeks repayment after helping her sister.

Episode

162

-

Semi-Pro Football Player Scams Older ...

A woman is accused of posting defamatory flyers about her sex life with an athlete; a woman who suffered domestic abuse tries to help out a friend in a similar situation.

Episode

161

-

Friends Committing Fraud Together?!; ...

A woman accuses an ex-friend of a string of lies to defraud her of money, but the judges find she is hiding a lie of her own; a young woman registers her unlicensed friend's car in her own name and is hit with thousands of dollars in parking tickets.

Episode

160

-

Traumatized Burn Victim Tortured by D...

A man with PTSD and incapacitated from third-degree burns says he was powerless to help his pregnant daughter; a survivor of a DUI has a broken back and a barrage of emails from his best friend's wife when he is accused of reneging on a loan.

Episode

159

-

Frat Bro Roof Fall!; Librarian Under ...

A repairman neglects to tell his client that one of his workers fell through her ceiling; a veteran city worker is accused of smoking pot and is evicted from her home after only seven days.

Episode

158

-

Superstar Mechanic Attack?!

A repairman who touts his five-star online ratings is accused of stealing a woman's car; he accuses her of refusing to pay for repairs.

Episode

157

-

Insurance Fraud Feeding Frenzy!; Whit...

When a tree damages a woman's home, she claims she got the short end of the stick in a scheme to defraud an insurance company; a man admits he disrespected a friend's wife on her birthday because he was angry that they were driving his old vehicle.

Episode

156

-

Payout for Injured Child; Payday for ...

Episode

155

-

Don't Lie on Your Application!; Churc...

A woman confesses that she lied about her past on her apartment application but denies owing more than $4,000 to the landlord; ex-coworkers are accused of taking their ongoing feud to the street in front of a church, and a man denies getting violent.

Episode

154

-

Meat Cleaver Death Threat?!

A woman claims her ex-roommate threatened to chop her into little pieces; Judge Corriero suggests that they might be from an "alternate universe."

Episode

153

-

Teen Girls on the Prowl for Fun!; Coo...

Bored teens' adventure ends in a crash and thousands of dollars in damages; a restaurant owner's brother is accused of faulty plumbing.

Episode

152

-

Ex-Bouncer in the House!; Attorney Sh...

Former club co-workers fight over an allegedly botched demolition job; a lawyer demands thousands in payback from her landlord.

Episode

151

-

Million Dollar Lottery Winner!; Just ...

A car dealer claims a woman owes him $50,000 as an investment in his company; ex-friends fight over the sale of a van.

Episode

150

-

Handicapped Hoodwink?!; Double-Dippin...

Ex-friends dispute a truck's disappearance; a landlord says a woman damaged his property while she was moving out.

Episode

149

-

Bad Mother Punching Bag?!

A woman says she was a bad mother when she left her stepchildren with an allegedly abusive father; her stepson sues her for a loan to start fresh.

Episode

148

-

No Sex Before Marriage!; Don't Ruin M...

After moving in together, a man and woman have a dispute over sleeping arrangements; after a dog fight at a no-leash park, a pet owner claims his German Shepard was labeled as vicious.

Episode

147

-

Peeping Tom and Shocking Porch Packag...

A landlord admits that he placed dog feces on a tenant's front porch; a dog gets away from its sitters and is hit by a car.

Episode

146

-

Toddler Strangled with YoYo String?!

A 10-year-old is accused of strangling his four-year-old neighbor; their mothers fight over the alleged incident.

Episode

145

-

The Day the Wedding Blew Away!; World...

A beautiful coastal wedding is moved to a cramped inside space due to reportedly faulty equipment and bad service; a contractor doubles his original $10,000 job estimate, saying it was too dark when he surveyed the property originally.

Episode

144

-

Child's BMW Roadster Dreams Squashed?...

A man hired to paint a classic convertible is accused of drag-racing the vehicle and botching the paint job; ex-tenants claim their landlord filed a retaliatory lawsuit over an attempted eviction and reportedly illegal water use.

Episode

143

-

Lonely Widower's Solace at Gay Bar?!

Episode

142

-

Toddler Abandoned at Daycare?!; Faile...

A mother says she had no choice but to leave her child with a nanny for 15 months, then claims that the child was mistreated; when a woman sues an ex-business associate, he accuses her of making romantic advances and trying to sabotage profits.

Episode

141

-

Hush Money From Sloppy Realtor?; Esca...

Episode

140

-

Debilitating Stroke Fundraiser Fail!

After a young woman suffers a stroke, her mother organizes an online fundraiser and is accused of stealing thousands of dollars.

Episode

139

-

Poodle Incites Pit Bull?!; Mother/Dau...

A poodle suffers a horrific mauling by a pit bull who reportedly terrorizes the entire neighborhood; an outrageous interest rate comes into play when custody of a 65-inch television divides a family.

Episode

138

-

I'm Not Your Personal Furniture Store...

Episode

137

-

Worst Driver Voted Most Likely to Be ...

Episode

136

-

Abandoned Children Tragedy

Four children with two reportedly unfit parents are shuffled between family members who fight over their living expenses.

Episode

135

-

I'll Have Sex With You If...; World's...

Episode

134

-

Wedding Cake Disaster!; Who Let the M...

A newlywed says her cake was so ugly that her first instinct was to throw it to the floor during the cake-cutting ceremony; a landlord accuses tenants of being so dirty that they caused a rat infestation.

Episode

133

-

Hair Jealousy Cruise?! Father/Son Bai...

Episode

132

-

Life of a Playboy Embezzler!

A felon admits to stealing half a million dollars and living the good life before being caught; his ex-girlfriend wants to be paid back for an alleged loan she made to him.

Episode

131

-

World's Unluckiest contractor?1; The ...

A young contractor is sued for poor workmanship; while serving time in prison, a man's bank account is drained.

Episode

130

-

American Horror Story

A woman claims she awoke to find an elderly neighbor in her home staring at her from her bed; her neighbor demands payback for a loan.

Episode

129

-

Don't Sue Me! I Saved You!

In a heated battle over a camper, ex-friends dispute an agreement to share the vehicle; a landlord gives his ex-tenant a break but regrets his good deed when rent goes unpaid and carpet is destroyed.

Episode

128

-

Simmer Down Loan Shark?!

A woman's claim for damages to her leased Mercedes outrages Judge Acker; the defendant admits that he was paying double what he should have paid.

Episode

127

-

Terrified Teen Exits the Courtroom!

After testifying against a contractor who she says threatened her mother, a fearful 16-year-old girl asks to be excused; the contractor denies verbally assaulting the family.

Episode

126

-

Lame Horse Scam?!; $500 for One Hour ...

When Rumor the horse develops "contracted heels" and is unable to compete, the animal's new owner claims she was misled and swindled; when a woman sues her ex-lover for repayment of a loan, he insists that he paid her back in "services."

Episode

125

-

Veterans vs. Russian Loan Sharks?!; G...

The judges try to get to the bottom of a loan-shark story when two veterans fight over thousands of dollars; a man sinks into a deep depression after the death of his mom, and his child's mother comes to his rescue.

Episode

124

-

Gold Mine Owner Refuses to Marry?!

A woman breaks into tears discussing the ex she says promised to marry her but instead stole her pain medications and wrecked her car.

Episode

123

-

Hostile Work Environment; Vicious Shi...

When a woman chimes in with remodeling suggestions, her ex-lover-contractor accuses her of hostility and allegedly walks off the job. Also: A Pit Bull mix is accused of maliciously attacking a small dog; his owner claims his dog was only acting in self defense.

Episode

122

-

Do You Have Young Eyes?; Mechanic Cau...

The Judges' vision is put to the test when a meticulous landlord goes after a young tenant for daring to attempt matching shades of white paint.case Also: A mechanic's answers change as quickly as the Judge questions him when he allegedly fails to repair a friend's car as promised.

Episode

121

-

Outright Lies, Assault and Courtroom ...

When asked to pay rent arrears, a woman files for a restraining order against her aunt and claims she was assaulted. Also: A man accused of stealing his ex-lover's handgun resorts to mudslinging when she comes after him for a series of unpaid loans.

Episode

120

-

European Trip Fail!; Handgun Collater...

Episode

119

-

Teen Go-Cart Garage Slam?!: Changing ...

A boy admits to losing control of a go-kart and crashing into a neighbor's garage but accuses the neighbor of inflating the extent of the damage; a woman sues her ex-landlords for the return of money she paid out for a room she never moved into.

Episode

118

-

Catastrophic Social Media Fail?!

An artist recruits an influential customer to garnish rave online reviews, then is accused of shoddy craftsmanship; after a neighborhood home is sold, a woman rents to one of its ex-residents and quickly regrets her decision.

Episode

117

-

Threatened by a Beast? Retaliatory re...

A man says his ex-lover sent a man called "The Beast" to scare him into paying back a $16,000 loan for a motorcycle; a landlord denies raising tenants' rent after they complained about a broken air conditioner in 115-degree weather.

Episode

116

-

Fireman Unjustly Enriched?!; Little B...

A fireman who does custom engine work on the side is sued for thousands when an overhaul of a '71 Chevy Nova goes awry. Also: A mother insists that her boys didn't carve their names on the hood of a cousin's car; she denies spanking and yelling at them after the incident.

Episode

115

-

Drunken Tire-Slashing Blind Date?!

A woman's blind date ends with a drunken night of bar hopping and four slashed tires; she is also accused of stealing money from a drug deal.

Episode

114

-

Phone Wars!; Ex-Cop vs. Ex-Prostitute...

Ex friends battle over thousands in unpaid cellphone bills; a young woman claims she was confused about the phone company's generous offer to pay her bill. Also: What begins as a simple drive to the fair, ends with an alleged jump from the car and call to the police; a surprise reconciliation comes into play.

Episode

113

-

Scared Into Lying to Police?!; I'm Pr...

When a young man "accidentally" pawns his neighbor's gaming equipment, he lies to police and is arrested. Also: A woman admits that she lied about being pregnant to her high-school lover; he says she continues to pursue him as an adult with gifts and alleged harassment.

Episode

112

-

Nazis, Sex & Retaliation?!

A gay man's one-sided love affair ends with a disastrous trip to Europe to visit his aunt's grave; he claims his travel companion promised sex but only slept with other men.

Episode

111

-

My Mom Is the Devil

Angry words are exchanged when a woman sues her brother over a jacket intended for the homeless; their elderly mother sheds tears throughout.

Episode

110

-

Theft of the Finest Marijuana; Game o...

A homeless man is accused of stealing high-grade pot by his friend; he says there were pounds of weed in the freezer; a Dalmatian-Labrador mix is hit by a car while playing fetch; the dog's owner sues her stepson for his alleged carelessness.

Episode

109

-

Plea Deal Botch by Lawyer

After a violent felony arrest of a minor, a mother accuses his lawyer of showing up late for court; the Yale-educated lawyer begs to differ.

Episode

108

-

Lying or Delusional? You Decide!

A woman sues a fellow motorist for allegedly sideswiping her while making a lane change; he offers up a wildly different story.

Episode

107

-

Bad Boy Bailout?!; Don't Threaten My ...

A woman admits that she knew her lover was wanted by authorities; she regrets bailing him out of jail after he gave a false name to police. Also: A man claims an equipment operator came after his family after a grossly exaggerated fender bender.

Episode

106

-

Pontoon Boat Sinking Saga!

A family cruise turns potentially deadly when a boat starts to sink; passengers are rescued but a disgruntled boat buyer wants payback.

Episode

105

-

Which Judge Is a Wigologist; Building...

A woman accuses her hairstylist of ruining her custom-made wig; the stylist says she's just trying to scam her for a new one. Also: When a business owner's dreams of development fall apart, he sues a construction manager for allegedly incomplete work and unpaid permit fees.

Episode

104

-

Tenant from Hell; Mother's Burial Exp...

A landlord accuses a tenant of destroying her property; the tenant claims the property was in shambles when she got there. Also: Sisters fight over an unpaid loan, a birthday party for their mother and finally, the cost of her memorial after she passed.

Episode

103

-

Scorned Ex-Lover Cheated On and Dumpe...

Scorned Ex-Lover Cheated On and Dumped?!

Episode

102

-

Blown-Out Engine Scam?!; Judge Corrie...

Blown-Out Engine Scam?!; Judge Corriero's Dating Rules!

Episode

101

-

Desperately Seeking Ling Ling the Pom...

Desperately Seeking Ling Ling the Pomeranian Puppy!; Storage Battle!

Episode

100

-

I Was Too Stoned to Close the Door; D...

Episode

99

-

High Performance Motorcycle No More

A man claims his customized Yamaha went up in flames after an allegedly botched electrical repair.

Episode

98

-

Lemon Goes Up in Smoke; Stiffed by De...

Episode

97

-

Picker and Stager Demands; A Hot, Gro...

A consignment worker sues her boss after she doesn't make the short list of employees to be paid after the store goes belly up; a man claims he only stayed two days in his new home because it wasn't clean and demands rent payback.

Episode

96

-

Aggressive Dog Attacks Frightened Mot...

A woman recounts a harrowing tale after suffering injuries from an alleged German Shepard attack; the dog's owner says it could have been worse.
Episode

327

-

Blinded by Pit Bull; Struggling Baker...

While in the privacy of his own yard, a Yorkie is allegedly attacked and blinded by a neighbor's Pit Bull in area that doesn't allow their ownership. Also: A baker claims she lost $125 a day for a month when her commercial rental sprung a leak; the landlord said it was for one day and she never paid rent.

Episode

326

-

Say Yes to the Wedding Venue; Bucket ...

A bride-to-be accuses a banquet-hall owner ofsneaking in an extra $1,000 in fees for her wedding space. Also: A mother of six demands that her sister-in-law pay her back for money loaned to buy a car; her sister-in-law says it was forgiven because she ran errands for her.

Episode

325

-

Street Performer Violence Unleashed

After being attacked by a homeless man, a performer becomes embroiled in an alleged pepper spray fight, crow bar attack and bible study' forgiveness' group.

Episode

324

-

World's Most Expensive Nanny; Drunk C...

A babysitter sues for thousands after only two days of work; she claims she had to take "rescue meds" to prevent seizures resulting from emotional distress. Also: A woman says her cousin was allegedly intoxicated when he took her car without permission and crashed into an 18-wheeler.

Episode

323

-

Investment Scammer; Caught Cheating

A man eagerly joins a friend's 'investment pool' only to discover that his $5000 has gone missing; rumors of a 'Ponzi scheme' come into play. Also: Amid allegations of cheating, a young man is accused of borrowing his lover's car, destroying it and abandoning it by the side of the road.

Episode

322

-

Hammer-in-the-Face Road Rage; Father ...

A young motorist confesses that he was too embarrassed to seek medical help after a 71-year-old man allegedly hit him in the face with a hammer. Also: A man claims his ex-wife's hostility over a motorcycle loan stems from the fact that he missed their son's middle school graduation.

Episode

321

-

Motorist Slams Into Church; It's All ...

When car brakes fail, a woman avoids oncoming traffic by ramming into a 91-year-old church; she floods the building causing over $10,000 in damages. Also: Retired body shop owners admit that they neglected to tell a customer that a matching paint job would cost extra.

Episode

320

-

Drug Trafficking Tip-Off

A man is accused of ratting out a friend to police after an altercation over a girl; parents defend their incarcerated son in court.

Episode

319

-

Car Party Pile-Up!; Ground Zero Sluml...

A traffic jam in a party district leaves an uninsured motorist defending his souped-up truck and its alleged ramming into a small, packed Lyft vehicle. Also: A man exaggerates descriptions of his situation after being accused of breaking in and vandalizing an apartment he was turned down for.

Episode

318

-

Caught Floating in Pool by Police!; T...

Episode

317

-

Crash Victim Robbed by Caregiver?!; M...

A woman suffers a horrendous motorcycle accident only to allegedly be victimized by the friend who took her in. Also: A woman sues her mother for the return of a wedding ring; her mom tries to use an illegal recording as evidence against her.

Episode

316

-

Cat Killer Whodunit?!

A female lawyer is thrown out of court after an emotional fight over her dog's liability for the vicious death of a neighbor's cat.

Episode

315

-

Schnauzer Stealer?!

A groomer is accused of dognapping a customer's pets; the animals' owners are accused of busting down a door to get them back.

Episode

314

-

Domestic Violence Recant?!; Swearing ...

Judge DiMango presses a woman on her statement regarding an assault by her boyfriend which she now denies; a man swears on the life of a loved one and puts down $60,000 in gold and jewelry as collateral for a $7,500 loan.

Episode

313

-

Spit Take in Court!; Hurricane or Bad...

A mother of 11 has a surprising reaction to her daughter's assertion that she is the star child of the family and should be rewarded for her collegiate efforts; a man accuses his neighbor of shoddy work on his new storage shed.

Episode

312

-

Don't Waste Judge Acker's Time!; You'...

Episode

311

-

ATV Flip and Roll Disaster!; Hybrid O...

A teen who took a friend's ATV for a ride, made a turn going 50 mph, and flipped and rolled, is sued for damages; a woman accuses a man of fraud when the car she purchases breaks down after two days and has 200,000 more miles than advertised.

Episode

310

-

Love, Loans and Weight-Loss Surgery?!...

A woman disagrees with her boyfriend's decision to have gastric bypass surgery, so he sues her for repayment of a loan; a disabled mom demands that her daughter's ex-lover pay back a $3,000 loan.

Episode

309

-

I'm Not a Prostitute!; Memorize These...

A 74-year-old Good Samaritan insists that he never bought the companionship of a 31-year-old woman whom allegedly owes him thousands in loans. Also: The botched sale of a used boat prompts the Judges to dispense wise words about the art of the deal.

Episode

308

-

Rent Strike Fallout!; Gender Bender C...

After being evicted, a disabled senior claims she was never made aware that her fellow tenants were on a rent strike against management. Also: A disgruntled SUV owner claims his vehicle was ruined by feminine seat covers and rainbow stickers; the SUV's ex-owner says it was a death trap.

Episode

307

-

Life in a Hoarder Shed?!; Pistol Pull...

A woman claims she struck a deal with her landlord to clear out a living space in exchange for rent; she's accused of trashing valuable property. Also: A woman fears for her life when a firearm is drawn during an altercation at her new day spa

Episode

306

-

Vicious Pit Bull Euthanized

After multiple attacks, "Bandit" the Pit Bull is put down; a tearful dog owner is sued for thousands in vet bills and emotional distress.

Episode

305

-

Dumbest Place to Put $400 Cash?!; Mor...

Payback money allegedly goes missing after being put under a doormat in the middle of the night. Also: After meeting in culinary school, two friends make the mistake of loaning each other money; the Judges reach a speedy verdict.

Episode

304

-

Landlord's Devious Double Standard?; ...

The judges admonish a landlord for a security deposit delinquency after the landlord does the exact same thing to her tenant. Also: A woman sues her son for a loan to buy a TV but doesn't stay angry at him for long; the judges implore the young man to show a little gratitude.

Episode

303

-

Stop! Yard Sale Thief!

A landlord posts flyers accusing his tenant of making off with his property at an unapproved yard sale; his tenant sues for defamation of character.

Episode

302

-

I'm a Vampire!; Supportive Bald Dad t...

A phlebotomy technician has a little fun with the judges as he tries to collect on a loan from a friend; he admits he called his friend's family "garbage." Also: In a heated exchange over an allegedly bad hair weave, a teen's dad provides moral support.

Episode

301

-

Bad Parent or Lame Landlord?!

A landlord is accused of discriminating against a young father with a large family; the judges take issue with a shoddy counterclaim.

Episode

300

-

Hydroplaning Disaster!; Cheap Shot to...

Fractured ribs and a concussion are just two of the many injuries suffered by teen drivers when their uninsured cars collide on the way to school. Also: A 50K bail out, alleged domestic violence and Internet infidelity come into play when ex-friends end their relationship.

Episode

299

-

Alcoholic Relapse Smash!; Crazy for B...

After meeting at rehab, two women become friends but end their relationship after a bender and a brutal car crash.

Episode

298

-

World's Greatest Children?!; Courtroo...

Young siblings offer up their lifetime savings to help their father's workplace; when the business fails, their father tries to recoup their losses.

Episode

297

-

Life's Not Free, My Dear!; Shoddy Ren...

The judges face a young woman with an 'atrocious attitude' of entitlement after she takes a friend's generosity for granted.

Episode

296

-

Ugly Divorce Drama!

A woman accuses her ex-stepfather of entering her property without permission and taking her belongings; he claims she never paid rent.

Episode

295

-

Desperately Seeking Maggie the Chiwee...

A man claims he overheard a death threat targeting his beloved dog and later had to fend off a "butcher knife and screwdriver" attack.

Episode

294

-

Episode 294

A landlord says a former tenant left her home in shambles; a plaintiff's compliment to the judges has little effect on the outcome of her case when she sues a jobless friend for $3,000.

Episode

293

-

Landlord Gets Schooled!; Three-Car Pi...

A self-proclaimed "temporary" landlord denies illegal activity and sues ex-tenants for damages; they claim the home was flooded before they moved in. Also: A young woman suffers an outrageous insult in court by a middle-aged man accused of slamming into her car.

Episode

292

-

High-End Engagement Dispute!; Doberma...

Ex-fiancées fight over a Rolex, a BMW and an engagement ring when a 13-year relationship fails to end in happily ever after. Also: A "friendly sniff" between neighborhood dogs allegedly turns into a violent bite and body shake; pet owners dispute liability.

Episode

291

-

$5,000 Worth of Stress?; Exorbitant C...

An unhappy ex-tenant claims a property manager's actions left her, her fiancé and their five children with nowhere to go; various circumstances come into play when ex-roommates fight.

Episode

290

-

Antique Watch Botch?; Beat Up Mercede...

A senior's prized anniversary pocket watch is allegedly torn apart by a small-business clock shop; a struggling young man can't make payments on a used car.

Episode

289

-

RV Turned Wine Bar Fail!; Father/Daug...

Episode

288

-

Brutal Robbery and Beating; Party Poo...

Episode

287

-

Pit Bull Fractures Bulldog's Skull

An angry pet owner storms out of the courtroom after listening to a pit bull owner allegedly lie about the vicious attack that scarred their dog.

Episode

286

-

Dog Lovers...Look Away!; Pathological...

Heart-wrenching footage of mauled Pekingese dragging himself across the floor comes into play when pet owners dispute a vicious attack. Also: A man's litany of excuses as to why he didn't pay back a dear friend fall on deaf ears when the judges set the record straight for a Good Samaritan.

Episode

285

-

Atlanta Model's Heartbreak; Hatchet H...

A model leaves her job and moves to Los Angeles to be with a man who claims their relationship was doomed; she sues for moving costs. Also: When a woman tries to return a handmade hatchet to its rightful owner, the weapon is hurled at her car by an angry neighbor.

Episode

284

-

Automatic Rifle Mystery Shoot Up!

The reckless discharge of a loaded M4 rifle allegedly leaves six bullet holes in a woman's home; a young man reportedly flees the scene.

Episode

283

-

Ludicrous Landlord?!; Raiders vs. Cow...

A landlord is accused of being ignorant of his responsibilities to a tenant; his list of wear-and-tear damages totals over $7000. Also: A football rivalry gets out of hand when a man takes offense at being called a "fake fan" of the Dallas Cowboys.

Episode

282

-

Marijuana Grow House Hijinks; Chicken...

A landlord objects to a young couple's attempt to grow pot on his property in a state with legalized marijuana. Also: Ex-lovers fight over their former dog's medical bills and the reason for his illness.

Episode

281

-

Lesbian Bride's Disaster Wedding?!; L...

Baked chicken instead of fried chicken, mis-matched napkins and no utensils leave a bride in tears and suing her wedding day chef. Also: Judge Acker lightens the mood when a woman going through bankruptcy cries over the goodwill she extended to a friend.

Episode

280

-

World-Renowned Rapper Incident?!

The alleged failure of an A-list rapper to enter the United States leaves an investor and promoter at odds when a concert falls through.

Episode

279

-

$98 Tarp for Million Dollar Mansion?!...

Longtime neighbors fight over a shoddy fence cover amidst allegations of harassment and property damage. Also: Feuding family members refuse to make amends over the balance owed on a Mini Cooper.

Episode

278

-

Dumpster Diving Drama

A woman claims priceless family heirlooms were thrown in the trash; her ex-roommate accuses her of being a hoarder with items of little value.

Episode

277

-

Bad Timing in Atlanta!; Bullied for B...

A woman regrets subleasing her apartment to a co-worker; his idea of moving out 'in a second' turns into a months-long, unpaid affair. Also: A waitress breaks down when talking about the way a new boss allegedly treated her; the friend who is suing her gives an encouraging hug mid-case.

Episode

276

-

New Wife vs. Ex-Wife!

Restraining orders, police action and child visitation come into play when alleged debts from a failed marriage are disputed.

Episode

275

-

Tearful Reunion Between Feuding Siste...

Episode

274

-

Homeless Shelter Skirmish?!

A homeless man diagnosed with stage IV cancer claims he was assaulted and thrown out of a shelter when a former friend accused him of theft.

Episode

273

-

Defrauding a Troubled Homeowner?; Ple...

Episode

272

-

Don't Call Your Grandmother a Liar!; ...

The judges are appalled by a young woman's treatment of her grandmother who loaned her thousands of dollars when she fell on hard times; a man claims he spent weeks in prison after being arrested for disorderly conduct.

Episode

271

-

Hair Salon Lockout?; Tattoo Double Re...

A hair salon owner is accused of changing the locks to keep a departing stylist from returning, and the stylist sues for the return of property; a man's attempt to cover up a tattoo with a new one ends with police being called.

Episode

270

-

Do-Good Dad or Dangerous Predator?

A woman with a permanent restraining order against her father claims he gave her money in order to try and win back his abused ex-wife.

Episode

269

-

Pit Bull Attack Caught on Tape!; Vand...

Episode

268

-

When Ministers Attack!; Failed Hot Tu...

A self-proclaimed minister accuses a neighbor of attacking her Christian character, and their argument escalates into a full-blown fight; a man's deal to barter handyman work for a used hot tub falls apart when the tub stops working properly.

Episode

267

-

Botched Wine Bar Rehab?!

A contractor apologizes for playing the race card when he is sued by a woman for sub-standard work.

Episode

266

-

Man Cheats on Girlfriend's Birthday?;...

A woman reveals unsavory details about her intimacy with the father of her child while his new girlfriend looks on; a landlord is shocked by accusations made by a former tenant who he says owes thousands in back rent.

Episode

265

-

Sunset Boulevard Road Rage Video!; Go...

A man jumps out of his car to confront the motorist who hit him in the middle of an intersection; Lyme disease, heavy-milking goats and stolen money come into play when ex-lovers dissolve their relationship and shared business.

Episode

264

-

Tangled Teardrop Chandelier Flop!; Wo...

Episode

263

-

Nominate This Woman for Sainthood!; I...

A former missionary who tutors Syrian refugees accuses a fellow motorist of backing into her while she was looking for a handicap parking spot; a landlord accuses ex-tenants of stealing his identity in order to put utility bills in his name.

Episode

262

-

The Judges Call Their Own Expert Witn...

When the treatment of an expensive wig is at the center of a heated debate, the judges call on "Loretta" to settle the vendetta.

Episode

261

-

Bullet Boy and the Cinderella Defense...

Episode

260

-

Penny-Pinching Millionaire Payback?!;...

Episode

259

-

Rehab Rescue, Hit & Run?!

Half-naked and high as a kite is how an alleged victim of a hit-and-run describes his aggressor; a woman denies her child was exposed to pot smoke.

Episode

258

-

Rapper Model Scam?!; Dishonest Car Sa...

A teen claims she earned $1000 as a rapper's model for a week and asks her best friend to cash her paycheck; her best friend sues for the check value plus $2000 worth of emotional distress. Also: A used car salesman accuses a woman's ex-convict boyfriend of taking his BMW for a ride and never coming back.

Episode

257

-

Toxic Mother and Daughter?; Double Wh...

Episode

256

-

Surprise! Strippers at the Mansion?!

A woman says football players and strippers were occupying the lakeside mansion she rented for a photo shoot of basketball models.

Episode

255

-

Vietnam Vet's Spirit Animal Fiasco!

A veteran's thigh is exposed to reveal a barn owl tattoo that he claims went terribly wrong; the tattoo artists say he was wildly offensive.

Episode

254

-

5K of Marijuana Traded for Harley?; B...

An ex-con comes clean about a motorcycle deal, while his ex-wife marries his jail-mate and sells the cycle while he is in prison; a woman takes the law into her own hands by reneging on a deal to pay her cousin back for thousands in phone charges.

Episode

253

-

Insane Position on Lifesaving Surgery...

A doctor says his success in saving a man's leg from amputation was met with nonpayment and ingratitude; "most outrageous lawsuit ever," says Judge Acker.

Episode

252

-

Pet Owner in Doggie Denial?; Teenage ...

Despite mounting evidence, a mother and her 12-year-old daughter refuse to accept that their Yorkshire terrier attacked a neighbor; a teenager offers to help his cousin move and ends up being accused of destroying her television.

Episode

251

-

Fast and Loose Friends?; Dog Rescue F...

A young man claims he was trying to help out an abused mother of two, but she says he wanted more than friendship; Lady the shepherd is accused of attacking and biting a neighbor and her dog and traumatizing an autistic onlooker.

Episode

250

-

Gun Violence Against Texas Gun Owner?...

Fearing for his life, a man evacuates his own home when an angry ex-girlfriend threatens to pistol whip him with a loaded gun.

Episode

249

-

Cheating, Drugs and Police?!; Obama P...

Only a month after a woman moves in with her boyfriend, she allegedly discovers he's cheating on her and doing drugs; a phone for the financially-strapped is allegedly stolen while two friends are eating donuts, and the suspected thief denies being resentful of the phone.

Episode

248

-

Hidden Vacation Money Revealed?!; Car...

A senior citizen dips into her hidden vacation fund to help her young friend overcome an allegedly abusive relationship; a car salesman claims he trusted his longtime friend and got stuck with a broken BMW, but she claims he never paid for it in full.

Episode

247

-

Horrible Manipulation of a First Grad...

Judge Acker is appalled when a child is allegedly coached to testify about a violent assault between family members.

Episode

246

-

Problem Client Lock Out?; T-Boned and...

A woman says she spent thousands to build a high-end fence only to discover that a cheap lock had allegedly been installed on the wrong side; while driving and listening to a popular song about having a good day, a man is T-boned by an uninsured driver and thrown across the road.

Episode

245

-

Domestic Violence Emergency Exception...

A woman claims that violence in her home forced her to move out early, but her landlord claims that's no excuse to skip out on rent; a woman refuses to acknowledge her brother after his ex-girlfriend accuses her of kicking them out and throwing their clothes in the garbage.

Episode

244

-

'Babysit' My 92-Year-Old Mom for Free...

A couple claim that instead of being paid to care for a friend's elderly mother, they were arrested for trespassing and thrown in jail; a man sues his ex-friend for the return of over $4,000 worth of his mother's belongings, but she claims he owed her money for storing it.

Episode

243

-

Don't Head Butt My Dog!; Bickering Ex...

A man sues his former friend for dental bills after her Australian Shepherd allegedly head-butted him and chipped his tooth; a woman claims her friend came over with tears, two kids, and a dog and that she took them in only to be left with alleged property damage and harassment.

Episode

242

-

Flirty Handyman or Desperate Housewif...

A handyman claims a female client walked out of the bathroom naked, but she insists that the only one being inappropriate was him; a woman accuses her brother of stealing money from her aunt's bank account, but he claims he used the money for his mother's funeral costs.

Episode

241

-

Skin-Tight Prom Dress Splits Open?!

A teenager demands thousands in damages for emotional distress after her hand-tailored prom dress rips open on the big night.

Episode

240

-

Alleged Child Abuse and Slander?!; Ne...

A childcare provider claims she had to close her daycare after an ex-client allegedly bad-mouthed her to other parents. A tattoo artist accuses a client's husband of making vulgar comments while she was trying to work on his wife.

Episode

239

-

Pesky Possum Problem!; Defective Pupp...

Neighbors fight over damages after they get rid of a possum pest. A dog owner sues for damages claiming the puppy had a congenital birth defect.

Episode

238

-

Dissed in Front of Daughter?!; Pay Me...

A mother is accused of cursing in front of a child over an alleged unpaid debt; she offers up an apology in court. A young man claims he suffered mental anguish when his childhood friend reneged on a truck deal and allegedly scrapped the vehicle.

Episode

237

-

$8000 Payout and I Got Nothing?!; Ins...

A woman sues her contractor for breach of contract after delays due to rain, while he claims she sabotaged the project. A disgruntled tenant fears she won't receive the return of her deposit; her landlord claims she cleaned dirty carpets for a week.

Episode

236

-

Singer Given Chance to Serenade the J...

A performer is accused of acting like a groupie instead of an up-and-coming star; he denies all charges and sues his publicist.

Episode

235

-

Show Me the Eye Candy; Help! I Bought...

A man claims he was given a $5000 gift from his girlfriend's aunt to be eye candy for her and make her look good; a buyer alleges that the 12-year-old car he found online turned out to be a fire hazard, the seller claims he has evidence from a mechanic to prove otherwise.

Episode

234

-

Common Law Wife Scam

A man returns home after caring for his elderly mother, and is shocked to discover accusations by his roommates of a common law marriage.

Episode

233

-

Hot Tub Mover Mayhem; Cocky Arrogant ...

A man's efforts to pick up a hot tub he purchased end in failure, he accuses the salesperson of being uncooperative and demands his money back; an ex-boyfriend is accused of stealing $5000 from his ex-lover's glove compartment and bragging about it online.

Episode

232

-

Grandma Love Gone Wrong; Stolen Weed ...

A young woman wants to dip into the college fund her grandmother saved for her to repair her car, but Grandma says no way; a woman claims her landlord stole her medical marijuana and harassed her while she lived in allegedly subpar home.

Episode

231

-

3 Baby Mammas, 1 Deadbeat Daddy?; Fig...

A man is accused of ruining his sister's credit when he leaves her on the hook for a $4000 car loan; and a teenager claims her sister-in-law was trying to impress her new girlfriend by buying new sneakers on her dime.

Episode

230

-

Salvage Retention 101; Mobile Home Pa...

A young woman shells out $6000 in cash to a family friend only to discover that the car she purchased had been labeled "salvaged" because of an accident. Also: a woman claims high-school kids broke into an allegedly abandoned trailer to do drugs; the owner begs to differ and demands payback after it is hauled away.

Episode

229

-

Injured Dog Crying in Court; Burning ...

A Pomeranian allegedly dislocates his hip because his nail got caught in the carpet. Also: a dispute over a fence damaged by a fire.

Episode

228

-

41 Days in Jail for Shooting Victim?;...

A woman claims she was wrongfully convicted and sent to jail because of a 12-year feud with her neighbor over a disputed property line; and an ex-lover seems more upset about the timing of a break-up than she is by a lawsuit brought against her for money allegedly owed.

Episode

227

-

Gumption and Hustle Meat Pitch; Apart...

A meat and fish salesman goes door-to-door and is offered a job by a "fast friend" who sues him for $2000 shortly thereafter; and a family being sued by their landlord claim they had no heat for months.

Episode

226

-

Deadbeat Brother Kicked Out of Court;...

A man behind on his rent to the tune of $5000 is thrown out of court for sparring with Judge Acker; and a woman sues her former boss for unpaid wages.

Episode

225

-

Freak Dog Attack and Death; Lemon Car...

A German Shepherd is accused of killing a tiny Chihuahua; and a dispute over used vehicle that the buyer claims is a lemon.

Episode

224

-

Gambling and Violence Vendetta?!

A woman becomes hospitalized, saying her ex-lover assaulted her; a daycare provider sues a family for unpaid services.

Episode

223

-

Babysitter Kidnapping and Ransom?!

A caregiver is accused of kidnapping two children and holding them until their parents paid her for her baby-sitting services.

Episode

222

-

Weave Rage Caught on Video

An angry mother gets physical at a beauty salon, claiming her teenage daughter's weave has been botched.

Episode

221

-

Orlando Nightclub Shooting Slur?!

A married, gay couple claim their landlord targeted them with bigotry and hate; the landlord sues for malicious destruction of property.

Episode

220

-

Fight Over Baby's Funeral Expenses

After a child's death, mourning parents dispute the cost of the funeral, headstone and possible property damage; Judge DiMango uses some choice words to describe a litigant accused of skipping out on rent, leaving a college student holding the bill.

Episode

219

-

Judge Acker Shares the Name of Her Wi...

A woman accuses a hairdresser of ruining a birthday "curl and style" of her wig, "Sasha"; a man and his son purchase a smoking, mufflerless 24-year-old car that they insist came with a 30-day warranty.

Episode

218

-

Man Killed, Pit Bull Shot, Goats Maul...

A grieving widow rescues her deceased husband's dog only to have it accused of a deadly attack on a neighbor's pet goats; a man must consider the financial value of home care provided by his children's mother while he works full time.

Episode

217

-

Rats and Roaches in Brooklyn...Oh My!...

A woman and her teenage son claim their home was infested with pests, while their landlord claims they tried to push her over a banister; a man sues a fellow dog owner for vet bills resulting from a dog attack, and the efficacy of an electric fence is called into question.

Episode

216

-

Get to the Point!; Tree-Hugging Exper...

A grandmother has trouble building a case against her former friend when she sues him for unpaid rent and utility bills; a woman calls in an expert arborist to testify that her neighbor's tree roots snaked onto her property and damaged her irrigation pipes.

Episode

215

-

Handyman Retaliation?!

A handyman is accused of retaliating against a homeowner who allegedly reneged on a renovate-to-own home deal.

Episode

214

-

Landlord Resorts to Graffiti Demands;...

Episode

213

-

Flea Infestation; Mercedes Mess

A woman rents a home to accommodate her service animal, then claims the home is unacceptable; a man says the used Mercedes he purchased needs repairs.

Episode

212

-

Aunt vs. Niece Credibility Contest

A woman goes up against an estranged family member when baby-sitting fees and Boys and Girls Club registration fees are disputed.

Episode

211

-

Church Referral Fail?!; Charleston Fl...

A woman makes an effort to hire a minority contractor with good references but insists he failed to do his job and sues for a refund; a landlady says her ex-tenant was trying to scam FEMA after a flood supposedly damaged her property.

Episode

210

-

Weight Loss Persecution?!

A woman says her ex-lover kicked her out of the house because she didn't lose enough weight.

Episode

209

-

You're Tiring Me Out, Ladies!; Judge ...

Episode

208

-

Mold and Mushroom Bathroom?!; Unwante...

A woman sues her former landlord for an illegal eviction and emotional distress due to allegedly untenable living conditions; a man claims his friend of 20 years made inappropriate passes at his son, but she claims he took financial advantage of her during a remodel.

Episode

207

-

Petunia the Pig Exposed!; Beverly Hil...

An uninhabitable home on Pig Hollow is the source of contention between feuding ex-neighbors; profane text messages, disputed gift giving, and the care of a child come into play when ex-lovers call it quits.

Episode

206

-

Trip of Horrors!; Roommate Rift

A group road trip to Disneyworld ends in disaster when two buses break down, a hotel night is missed, and SUVs are called in for the return trip; a woman sues for three times the amount she is owed for a security deposit, but admits that she neglected to pay bills on time and overstayed her welcome.

Episode

205

-

Starving Cats Take Over Mobile Home; ...

Married landlords accuse ex-tenants of leaving their cats behind when they left; a woman claims she was blindsided when her boyfriend showed up with police to take her car.

Episode

204

-

Pot Smoking Shambles?!; Honest Man Al...

A woman accuses ex-tenants of smoking pot and of leaving her home a mess, and she claims she has the pictures to prove it; when a man sues his former in-laws for an unpaid loan to buy a house, his father-in-law does the unexpected.

Episode

203

-

Gigantic Reverse Birdcage!; The Indef...

A woman designs a huge birdcage for her blueberries to keep them from being eaten by birds and accuses a friend of doing a shoddy job of building it; a young man admits that he took money from his girlfriend to buy a car but that she gifted it to him because she wanted to see him more.

Episode

202

-

Gender Discrimination or a Poor Work ...

When a home care worker becomes accused of providing substandard care, he claims to be a victim of gender bias; best friends no longer speak to each other after a heavy food trailer gets accused of damaging the truck towing it.

Episode

201

-

Botched Mural Speaks a Thousand Words...

The judges compare before-and-after photos of artwork to determine if a man deserves money for pain and suffering due to an artist's work.

Episode

200

-

Sinking Boat Bargain?!; Slumlord or G...

A friendly boat ride ends in accusations of fraud and forgery; fresh out of prison, a woman tries to make a new start, but says her landlord shut off her water and refused to pay for repairs.

Episode

199

-

Woman Disrupts Casting Session?!; Hom...

A filmmaker accuses an employee of defaming his production company; desperate for a place to live, a woman moves into a condo despite feeling uncomfortable with her landlord's behavior.

Episode

198

-

Double Duty Vandalism?!; I'm at Ease ...

A woman cites a debilitating stroke as defense against accusations that she damaged her ex-lover's trucks; a woman demands payback for a '98 Mustang.

Episode

197

-

For Whom the Hell Tolls?!; Teen's Fat...

Ex-roommates fight over a whopping $3,600 in toll fees; a man is sued for backing out of his driveway and into the parked car of his teen daughter's best friend.

Episode

196

-

45 Days in Jail? But I Was Innocent!;...

A woman pleads guilty to auto theft but insists her boyfriend gave her permission to drive his car after an odd day trip fell apart; a woman regrets the day she reached out to make amends with her grandchild's mother.

Episode

195

-

Never Hire Family!; Police Come to Wo...

A family member goes after a relative for unpaid services; a woman resorts to police help in order to recover a truck her former friend rented.

Episode

194

-

Party Bus Catastrophe!; Desolate Salo...

A woman celebrating her 46th birthday is left in the lurch when her private bus never shows up; a salon owner hires a recruiter to increase revenue but ends up suing her for breach of contract.

Episode

193

-

Don't Share Your Man With Others!; Te...

A woman dates a man she knows is seeing other people, and it doesn't end well when his personal belongings go missing; a responsible teen motorist confesses that he was at fault and offers to get a job to pay for damages to a fellow teen driver.

Episode

192

-

Burlesque Artist or Strip Teaser?!; D...

Episode

191

-

Roaches Resilient to Tenant Scare Tac...

A man and his fiancé claim they were driven out of their apartment by a bug infestation; the only thing former roommates have in common is the amount of money they agree is owed to each other.

Episode

190

-

Adopted Daughter Sued by Mom!; Can Yo...

A mother insists that she treats her adopted-as-an-infant daughter the same as her other children when she sues her; a man accuses a fellow reverend of conning him regarding the sale of a building he wanted to convert to a church.

Episode

189

-

Drunk Drama or Irritating Boyfriend?!...

A woman accuses her former friend of moving in and causing chaos, while her ex-friend says she can do better than her current lover; a woman's memory goes on holiday when she's accused of skipping out on rent and destroying property.

Episode

188

-

Parallel Parking Chaos; Contractor In...

A witness testifies on behalf of a man who claims a fellow motorist backed into him, but the defendant says there were no witnesses at the accident scene; a woman says her contractor asked her to overcharge him in order to get more insurance money.

Episode

187

-

Gay Lover's Quarrel Turns Violent?!; ...

A breakup a week before Valentine's Day leads to accusations of kicking a car at a gas station; after a woman comments on her boyfriend's new bathroom vanity, he stops payment on the check to the plumber who installed it.

Episode

186

-

Worst Obituary Ever?!; Single Father ...

A warehouse worker is hired to create a funeral program and blames the misspelling of the deceased man's name on sloppy cursive writing; after a man loses his home in a fire, he is accused of living rent-free with his girlfriend's son.

Episode

185

-

Maltipoos, Mating and Poison?!; The L...

A woman is accused of threatening to poison a dog; a woman wants payback from her troubled sister after bailing her out of jail.

Episode

184

-

Teenager Flips Off Judge Corriero; Ha...

Episode

183

-

Ex-Lover Blindsided by Eviction?!

A luxury sports box, intense jealousy and accusations of improper behavior with a family member come into play when ex-lovers call it quits.

Episode

182

-

Unwanted Advances or Bad Timing?; Vic...

An elderly couple are accused of inappropriate behavior by their longtime handyman after they sue him for incomplete work; a woman says a friend used the woman's credit card to buy plane tickets to visit a sick relative.

Episode

181

-

Mother and Son Tug of War!; Random Ac...

Carpenter Jeff Devlin is recruited by Lisa and Tom to work on their 1737 stone home in Plymouth Meeting, Pennsylvania. They ask him to address two areas of the home, from different eras: the first floor, circa 1737, which they use as a mudroom and entryway; and the kitchen, which was built in the 1800s but looks straight out of the 1980s. Jeff and his team dig into the project, bringing unique historic elements into the entryway room and giving the kitchen an 1800s overhaul. They even look for a hidden hatch in the entryway floor, rumored to be a trapdoor used as part of the Underground Railroad.

Episode

180

-

Rhythm and Blues and Steak?!; Busted ...

A restaurant owner says a musician released a "hurricane of chaos and disorder" when he came to perform on New Year's Eve; a dispute over unpaid loans between ex-lovers takes an abrupt turn when a woman plays an incriminating phone message.

Episode

179

-

I'm Not an Animal Abuser!; The $10,00...

A young man testifies that a German shepherd dog suffered a broken leg after slamming into a dresser while under the care of the pet owner's friend; a struggling single mom is accused of taking financial advantage of a co-worker.

Episode

178

-

Everyone Breaks the Law in This Situa...

Despite fears that they are losing their baby on the way to the hospital, a couple deny driving over the speed limit; a café owner says a web designer's know-it-all attitude and poor workmanship caused him to end their business relationship.

Episode

177

-

Pet Hedgehog Death by Pneumonia! Stri...

Pet Hedgehog Death by Pneumonia! Stripped Out or Ripped Off?!

Episode

176

-

Calculated Cutting Rage?!

Calculated Cutting Rage?!

Episode

160

-

Mentor Mayhem!; Bald Spot Weave Disas...

Mentor Mayhem!; Bald Spot Weave Disaster?!

Episode

159

-

Irreparable Damages!

Episode

158

-

Hero Dog Hit by Car?!; Reality Show F...

Hero Dog Hit by Car?!; Reality Show Fail?

Episode

157

-

Malicious Baby Photo Deleting?!; Faul...

Malicious Baby Photo Deleting?!; Faulty Jet Ski Scam?!

Episode

130

-

Pit Bull Baby Daddy Rip-Off?!; Hover ...

Amateur pit-bull breeders fight over custody of three puppies when their litter is smaller than expected; a man's ex-fiance is accused of holding a hover board ransom for unpaid rent, and tricky texts from an unsuspecting source come into play.

Episode

129

-

Appalling Pool Party Attack!

A civil conversation between two fathers quickly escalates into a brawl involving lawn chairs and a baseball bat.

Episode

128

-

Name-Calling Mamma?!; When Lovers Bec...

A woman is on the attack when she goes after her daughter for neglecting to repay a loan for EMT training; lovers' attempt to start a children's clothing business tears them apart.

Episode

127

-

Motorcycle Defamation Scam?!; Tropica...

When a man doesn't receive a refund fast enough he takes the law into his own hands and is sued for posting defamatory comments; a landlord refuses to return his tenants' security deposit because they broke his lawn-beautification rules.

Episode

126

-

Uber Driver on the Prowl?!

A 59-year-old driver is accused of stalking and terrorizing a 25-year-old female client; he insists he's just trying to collect on a loan.

Episode

125

-

Heartfelt Apology After Squalor Squat...

After a video depicting horrid living conditions is shown in court, a man feels compelled to apologize to the landlord who is suing him; a woman's passion for bingo is at the heart of a dispute between ex-lovers.

Episode

124

-

Maximus Justice to the Rescue!; Co-De...

An injured dog, accusations of gun violence and credit card fraud come into play when ex-lovers fight over the destruction of property; happy trips to Mexico come to a halt when former friends fight over airline tickets and years of unpaid errands.

Episode

123

-

Unconditional Love for Injured Child;...

Unconditional Love for Injured Child; Man in Drag Stole My Bag!; Maximus Justice to the Rescue!; Co-Dependent Family Feud?

Episode

122

-

Con Man's Confidence Gives Him Away?;...

Con Man's Confidence Gives Him Away?; Daughter Knocks Out Mom's Teeth?!

Episode

121

-

Crazy Grand Larceny Coincidence; Emot...

Crazy Grand Larceny Coincidence; Emotional Eviction Distress!; You Ruined My Wedding Cake!

Episode

120

-

When Service Dogs Attack!; Pot Smoker...

A veteran with PTSD is accused of turning a service dog into an attack dog who bites his son, a nurse and the mailman; when a pot smoker makes light of causing a collision with a fellow motorist, a judge sets him straight.

Episode

119

-

First Love Violence and the Older Wom...

A father's earlobe is detached during a violent fight with his daughter's younger ex-boyfriend.

Episode

118

-

God's Got Your Back!; Braid Me Beauti...

Death row inmates and unpaid wages come into play when a pastor's wife and her executive assistant fight over money; what starts as friendly hair styling between friends ends with wild accusations about hair extensions, napping and nudity.

Episode

117

-

The Unsuspecting Squatter?!; What's W...

A proud new homeowner learns he bought a home from someone who never owned the property; a grandmother shares a room with six others, while the grandson she raised after his mother was murdered borrows $5,000, lives large and doesn't pay her back.

Episode

116

-

Diabetic Therapy Dog Mauled!; Don't S...

A pit bull viciously attacks a Labrador retriever in a bank parking lot; a woman purchases a camper trailer from a man who keeps her money and then goes to prison; his parents resell the vehicle before she can pick it up.

Episode

115

-

Only Way Out: Plead Guilty?!

A young father insists that his guilty plea to domestic assault charges was the only way he could avoid jail time and be with his children.

Episode

114

-

Baiting the Police?!; Most Incredible...

A man claims his intoxicated roommate taunted him and begged him to hit her, hoping the police would get involved and take him away; a mysterious accident leads to a mysteriously fraudulent money-order in an outrageous hit-and-run story.

Episode

113

-

Strangled Dog, Mangled Mama?; My Brot...

A woman says she overheard her estranged tenant discuss how he planned to kill her dog and hit her in the head with a brick; a man says his brother ghosted his entire family and continues to ignore them because he is being asked to pay back a loan.

Episode

112

-

Suicidal Scare Tactic?

A woman receives a frightening video of her jealous lover with a gun to his head after she takes off for the weekend with her friends.

Episode

111

-

Black Out Crash!; Sick Puppy Euthaniz...

A driver blacks out and crashes her friend's uninsured car into a tree, then they fight over whose food run it was; a dog breeder is accused of euthanizing a labradoodle without the pet owner's permission and is sued for emotional distress.

Episode

110

-

Who's Scamming Who?!; Brain Tumor Fam...

A mother of three is accused of abandoning her rental home and leaving it in shambles, but she says her landlord was negligent; a medical emergency unites estranged family members under one roof, but an unpaid phone bill tears them apart.

Episode

109

-

Cheating and the Computer Confession?...

Infidelity, bankruptcy and an unsigned confession come into play when ex-lovers fight over a loan; pit-bull owners say their pet is a victim of mistaken identity after a neighbor's terrier is viciously attacked.

Episode

108

-

Jail Time for Busted Head!; Stop! Shr...

A man spends years in jail after brutally injuring his ex but makes light of the situation when he is once again accused of violence; a defense contractor working in Afghanistan says his former tenant stole shrubbery from him while he was abroad.

Episode

107

-

Flipping and Flirting?!; Kissing Up t...

A married man denies flirting with his business partner's girlfriend when he proposed a plan to flip cars; two young cousins try to flatter the judges into ruling in their favor when thousands are at stake in a battle over a bad living situation.

Episode

106

-

Pit Bull Animal Cruelty?!

Partners in a dog-breeding business sue each other for fraud, breach of contract and defamation

Episode

105

-

Newlywed Bean Thief?!; Bat Crazy Apar...

Episode

104

-

Biloxi Teen Rescue?; Motorcycle Club ...

A man who says he saved a teen mother from a dangerous area sues her years later for thousands of dollars in loans; a shared living situation ends in disturbing texts and accusations of harassment.

Episode

103

-

10 Children and Counting ...

Exes are unable to manage a large household and end up fighting over personal property, a vehicle and restraining orders.

Episode

102

-

Charity Childcare Drama; Sheriff's Da...

A struggling single mother is accused of defrauding a non-profit; a young couple admit to being uninsured at the time of a collision.

Episode

101

-

Which Roommate is the Evil One?; Quic...

Ex-roommates fight over lost wages and stolen property; a woman's plan to hide a secret loan from her wife backfires when her friend of 20 years refuses to pay her back.

Episode

100

-

The Preacher and the Popcorn!; Dog Wh...

A dispute over damaged carnival equipment; after a dog is injured, a pet sitter defends her actions.

Episode

99

-

Horse Rescued from Kill Lot!

A woman rescues a horse only to discover that it is allegedly being abused and neglected at its new boarding location.

Episode

98

-

Flipped Cars and Disappearing Cash!; ...

A man makes the mistake of letting a friend cash a check for him; a young man's derogatory text.

Episode

97

-

Sledgehammered Safe?!; Fancy Phone Fo...

Episode

96

-

Pit-Bull Bite and Run!; The Day the C...

A pit bull's owner becomes accused of fleeing the scene after it attacks two other dogs; the owner of a Christmas tree lot sues his former neighbor for killing 450 of the trees with chemicals.

Episode

95

-

All Rise for Judge Jerry!; Stolen Spo...

A landlady who entered a property to care for ducks faces accusations of spying on tenants; a man accuses his former business associate of theft that forced him to go out of business.

Episode

94

-

Grandma Stops Playing Nice!; Warning!...

A mother-in-law sues for repayment of a loan; former friends fight over an 18-year-old truck.

Episode

93

-

Judge Jerry Guest Appearance!; Gravey...

Episode

92

-

Children Injured by Mold Outbreak?!; ...

A woman says a moldy home caused her and her children to suffer; a contractor admits he had never demolished a building before.

Episode

91

-

Fishing Trip Stuck in the Mud!

A teen's offer to get a car unstuck leads to a rescue by the fire department.

Episode

90

-

Was Horse Left to Die?!; Wedding Pict...

A woman says a drunken driver hit her horse and left it to die without reporting the incident; a man is accused of remotely wiping out the hard drive of a photographer's computer.

Episode

89

-

Fired Up or Fraud?!; Young Chef Tries...

A man's former boss sues him for the cost of a truck; a young man's good will is negated by his four roommates.

Episode

88

-

Happy Birthday! I Got You Nothing!; M...

A long-distance romance ends when a man sues his ex for the cost of a washer and dryer; a woman sues her former sister-in-law for pawning her late brother's possessions and damaging her property.

Episode

87

-

Animal Control Wackiness!

Feuding between a woman with a service dog and her neighbor involves 50 calls to animal control, suspicious vandalism and a suicide attempt.

Episode

86

-

Child Witnesses Mommy Catfight!; Movi...

A mother sues for emotional distress after her 4-year-old witnesses her getting beaten up by an angry woman over a botched sale of a vehicle; a woman says she lost $3,500 while moving from her mother's home to her boyfriend's mother's.

Episode

85

-

The Captain Crunch Cereal Lock Out!; ...

Longtime friends are involved in a petty fight over cereal, personal belongings and accusations of an illegal lockout; accused of stealing tools, a painter threatens to call the police on the man who hired him.

Episode

84

-

Tunnel Vision Victim?; Belly Up Barbe...

A friendship ends disastrously after a failed living arrangement; a salon owner says he was the victim of a bait-and-switch when he agreed to buy used barber-shop equipment.

Episode

83

-

Child Abduction and Ransom Demand?!; ...

A vet says his children were kidnapped and held for ransom in Tijuana; an uninsured driver is accused of racing through a stop sign and colliding with oncoming traffic, with two small children in her car.

Episode

82

-

Big Dogs Meet Tiny Taffy!; Chore Bore...

A pit bull and a Rottweiler attack a tiny dog, causing it to have to be euthanized; a woman sues her son's friend for room and board.

Episode

81

-

Fashion Week PR Fail!; Worst Roommate...

A promoter accused of failing to publicize a fashion event; roommates fight over accusations of vapor use, uncleanliness and a scary boyfriend.

Episode

80

-

Life Coach vs. Unhappy Breather?!; De...

A life coach sues a dissatisfied ex-client for $6,000; a woman sues an ex-friend for the cost of a puppy.

Episode

79

-

Three-Car Pile-Up Scare!; Driving Ins...

An uninsured driver hits a young mother and her infant; a driving instructor says she refuses to continue lessons because of her student's bad driving.

Episode

78

-

Incarceration Complication!; Mean Gir...

A woman's car becomes involved in a hit and run after she lends it to her incarcerated son's girlfriend; after flying to Los Angeles for a party, a woman denies owing for travel.

Episode

77

-

Bait and Switch Photo Fraud?!; Party ...

A recent MBA grad says her $99 photo package ballooned into a $1,600 "scam" package; an unhappy client sues a hospitalized event planner.

Episode

76

-

Animal Lover Hit-and-Run?!; Judge Cor...

Episode

75

-

The Drunken Woman Scorned Defense?!; ...

A woman learns that her "emergency loan" to her boyfriend was for a $2,000 watch; a couple with a sick child are held hostage by a repairman's schedule.

Episode

74

-

Salon Burns Off Eyebrows?!

A woman who had her eyebrows tinted ends up in urgent care with burning chemical pain.

Episode

73

-

Sister Scams Sister?!; The Designated...

Sisters accuse each other of fraud, abandonment and breach of contract; a teen says her designated driver attempted high-speed stunt driving and wrecked her car.

Episode

72

-

Leaving the U.S. Permanently?!; New C...

A disabled dad is at odds with his favorite daughter; a man says his children's mother bought a new car by fraudulently using his debit card.

Episode

71

-

Cat Lovin' Landlord!; Me, My Mom and ...

Cats' owner regrets entrusting them to his new tenant; a young woman tells of her failed attempt to live with her mother.

Episode

70

-

Cousin Double Firing!; Insurance Scam...

A woman claims her cousin caused her to lose her job; a woman says her mechanic damaged her car and held it hostage.

Episode

69

-

Sister Takes the High Ground?; Minor ...

A man accuses his sister of wrecking his car; a child is upset by accusations of inappropriate behavior regarding a cell phone.

Episode

68

-

Police Ram Door Down!; Fast and Icy (...

Episode

67

-

Slave-Driver Landlord or Crazy Tenant...

A woman accuses her landlord of treating his foreign-born bride poorly.

Episode

66

-

Coasting on Daughter's Cuteness?!; Wa...

A 7-year-old testifies that her family's car was shaky after a mechanic told them it was fixed; a man calls his girlfriend a stalker after she shows up at his workplace to collect money owed.

Episode

65

-

Teen Rapper Lil Niqo in Court!; Who's...

A rapper's talent manager is accused of breaching a contract; a woman says she was accused of child abuse after trying to collect on one of her day-care clients' past due accounts.

Episode

64

-

Punch Drunk in the Head?!; Dirty Hand...

Episode

63

-

Elder Abuse and Truck Misuse?!; Hard ...

Episode

62

-

The Phantom Driver Defense!; Babysitt...

A driver accused of a hit-and-run spins an absurd yarn about a stranger stealing her car while she was asleep; a woman with a brain tumor demands that her former friend repay her more than $3,000 owed in child-care fees.

Episode

61

-

Lying Teen Vandal or Mistaken Identit...

A cabbie chases down and apprehends a teen he says threw a rock at his car and shattered the windshield as he was driving.

Episode

60

-

Credit Score Rehab!; Flirty T-Shirt D...

A credit repairman is accused of failing to improve a client's financial record; a woman says a graphic designer's jealous girlfriend got in the way of a business transaction.

Episode

59

-

Rape Victim Tries to Trust Again; Bik...

A woman says her lone friend turned violent on her when she reached out to help him; a cyclist denies hitting a parked car.

Episode

58

-

Bank VP Makes Huge Personal Credit Mi...

A bank executive signs for a $27,000 personal car loan for a new boyfriend, despite knowing he has bad credit; boyfriends accuse a former roommate of selling their couch without permission.

Episode

57

-

Model Panic and Hijacked Clothes?!

A model accuses a photographer of stealing her clothing.

Episode

56

-

High Stakes Toy Trade!; Boyfriend's D...

An antique-store owner sues a woman who inherited 300 dolls; a young man is caught between his girlfriend, her angry mother and payback for a shared car.

Episode

55

-

New Judge Michael Corriero Joins Hot ...

A dramatic May-September romance involves jewelry, cosmetic surgery and heartbreak.

Episode

54

-

Judge Judy in the Hot Bench House!; A...

Guest Judge Judy rules on a case of homelessness, dementia and a sympathetic landlord; guest Judge Jerry Sheindlin rules in a case of a widow's sentiment overcoming reason.

Episode

53

-

Judge Judy on Hot Bench ... One Day O...

Guest Judge Judy Sheindlin presides over a case involving accusations of domestic violence, police intervention and self-help justice.

Episode

52

-

Broken Neck Insurance Check; Rescue D...

Episode

51

-

Judge Acker's Favorite Complaint!; Do...

A man involved in a late-night car crash offers up an explanation for his run-in with an attractive woman; when a man's ex-mistress sues him for repayment of loans, he accuses her of making trouble with his wife.

Episode

50

-

Long Lost Sister Finds Brother!; Hit ...

Reunited siblings fight over a bail bond and a down payment on a house; a female defendant says a lawsuit was filed only because she showed no romantic interest in the plaintiff.

Episode

49

-

Grandma Backhands the Girlfriend?!

A woman says both the father and grandmother of her children abused her.

Episode

48

-

Elder Abuse and Dog on the Loose?!; D...

A miniature American Eskimo dog is accused of injuring multiple workers; a day care provider says her former friend stopped paying for child care.

Episode

47

-

Idiot Drivers?!; Car Kicking and Scre...

Episode

46

-

How to Catch a Thief!; Wear and Terro...

A good Samaritan gets caught in the middle when a robbery victim lures a criminal into police custody; landlords say a former tenant threw a tantrum over her lease and left the place filthy.

Episode

45

-

Youth Mentor Accused of Foul Play!; B...

A young man tries to embarrass his counselor in front of his wife; a weave causes a teen's hair to fall out.

Episode

44

-

Sick Brothers Vie for Mother's Suppor...

A woman sues her diabetic son for living expenses; a woman accuses her ex of running off with her half of their security deposit.

Episode

43

-

Red Corvette RIP!; Refund Xmas Scamme...

A teen who crushed a woman's dream car and fled the scene cites police bias; a woman is accused of spending a tax refund she was supposed to use to repay a debt.

Episode

42

-

Dognapping the National Dog of Cuba?!...

A breeder denies dognapping for reward money; a young man says a drunken minor broke his phone.

Episode

41

-

Hogtied Into Rehab?!; Homeless, Ex-Co...

A concerned relative stages a surprise intervention at his cousin's workplace; a mother denies putting her children at risk when she hires a drug-abusing friend as their live-in baby sitter.

Episode

40

-

Drums and Guns!; Children in Collisio...

Episode

39

-

World's Most Generous Cousin?!; Conne...

Episode

38

-

Lousy Free Labor?!; Violent Profane T...

A landlord stands accused of locking out a tenant because of subpar efforts to clean up an apartment; trying to prove that his former roommate was a volatile drinker, a man submits evidence pointing to his own anger issues.

Episode

37

-

Cruiser Loser!; Repo Man Crazy Talk?

A woman pays for a used vehicle, only to be told she may never get it; three wildly different stories come into play when a man repossesses a dilapidated car.

Episode

36

-

Trailer Love Triangle!; Grandma Drama...

A woman, her boyfriend and her ex-boyfriend fight over ownership of a mobile home; a grandmother regrets basing her decision to move into a property on the romance between her teen grandson and his girlfriend.

Episode

35

-

Vaping Startups and Extortion?!; Whir...

A woman allegedly locks her ex-business partner out of his website and redirects potential clients to a cheaters' website; a man and a woman move in together 16 days after meeting and fight over hot tempers and abandoned property.

Episode

34

-

Double Trouble Twin Scam?!; If I'm St...

A girlfriend's wanting to move in ruins a comfortable living arrangement; a man steals the keys from his lover, who tries to leave him on the highway after a heated fight.

Episode

33

-

The Wrong Jesus; Lazy Teen Smog War!

Episode

32

-

Cold Cabin, Frozen Tenant!; Rush to H...

A woman says she caught pneumonia in an uninhabitably cold rental unit; a family's race to get a child to the hospital ends in a wreck.

Episode

31

-

7-Year-Old Slam Dunk!; Rule-Breaking ...

A child tells about a vicious attack in which her Rottweiler allegedly mauled two other dogs; a teen in charge of three children gets accused of moving her boyfriend in, smoking, and eating the family's food.

Episode

30

-

Angry People Key Cars!; Actor, Painte...

A man's car is keyed days after he gets a protective order against a former lover, but she says there would have been more damage if she was involved; upon coming home from work, a man discovers his landlord has taken in 10 cats.

Episode

29

-

Back-to-School Charity Rift!; German ...

Nonprofit organizations fight over damages when a man backs out of a charity event; a woman who was mauled by an unleashed dog has difficulty locating the animal's owner.

Episode

28

-

Child Witness to Violence?; AA Friend...

A woman's boyfriend allegedly kicked in a car's windshield when her 3-year-old daughter was in the car; a man says he was forced to evict a destitute friend because of unpaid rent.

Episode

27

-

Extorting the Elderly?!; African-Amer...

A man damages a neighbor's car when he jumps after being scared by a "vicious" dog; a woman sues a hairstylist for emotional distress, claiming the defendant caused her hair to fall out; Judge Acker clarifies a common misconception.

Episode

26

-

Gift of a Death Trap?!; Abandoned Boa...

A woman says a replacement car a mechanic gave her endangered the lives of her and her child; a boat's owner sues a young man who tried to salvage the abandoned vessel.

Episode

25

-

Renovation Court Walkout!

Episode

24

-

Daycare Nightmare; Teen Einstein vs. ...

A mother admits to sending a sick child to school; a college student sues her ex for thousands of dollars she says she paid to send her to school.

Episode

23

-

Girlfriend Conspiracy Theory; Video B...

Exes are accused of making up a shaky "lost wallet" story; a smartphone video contradicts a young man's description of a crash on a deserted highway.

Episode

22

-

Child Vandal or Innocent Bystander?!;...

Episode

21

-

Rent-to-Own Breakdown!

Drug use, theft and the police are parts of the narrative when a lawyer sues her former tenant.

Episode

20

-

Security Risk Sister!; Daddy Dating F...

A security officer regrets co-signing a car loan for her younger sister; a woman funds her boyfriend's trip to see his children only to be accused of tagging along.

Episode

19

-

Shocking Theft of the Bereaved!; Dati...

A young woman discovers that her friend charged more than $10,000 on her credit card while she was hospitalized; a woman accuses her down-and-out live-in boyfriend of stealing her designer bags.

Episode

18

-

When Old Parking Tickets Attack!; Fri...

A woman blames her children's father for the loss of her car; a young woman takes out a loan with 215 percent interest to get her boyfriend's car out of impound.

Episode

17

-

Prom-Stealing Landlords?!; The 600-Po...

A woman blames her landlords for causing her teen to miss out on senior pictures and the prom; a custom-made picnic table ends a friendship.

Episode

16

-

Wear and Tear Tirade!; Love Is Gone, ...

An angry landlady cites felony assaults and many other offenses; a couple breaks up after co-signing a 36-month car lease.

Episode

15

-

High and Hijacked?!; Border Collie Bl...

A man who crashed a car offers a wacky defense; a jogger claims expensive medical bills after being attacked by an unleashed border collie.

Episode

14

-

Christian Values on the Hot Seat!; Ho...

A guarantee of a Christian work environment is compromised by the boss's extramarital affair with a co-worker; a lawyer is accused of defrauding the government after helping a subsidized tenant.

Episode

13

-

Child Abuse Denial; Easter Party Frea...

A child-care worker defends spraying a child with water; roommates make accusations after a woman objects to a house party.

Episode

12

-

McMansion Takedown!

An elderly rebel says illegal attempts were made to silence him when he stopped construction of a "monstrosity" next to his home.

Episode

11

-

Daddy Got Game!; BFF Runaround

A single father sues his children's mother for the return of his video games; a former friend crashes a young woman's car and refuses to explain what happened.

Episode

10

-

Incarcerated Mom Cries Foul!; No Bed ...

A foster mother says she spent more than $5,000 to care for her foster daughter's child while she was in jail; a decade-long relationship ends with a battle over a $2,000 bed set.

Episode

9

-

Jealousy-Fueled Brick Slam?!; Denture...

Episode

8

-

Classic Car Rage!

A stunt driver thinks his own son busted 17 windows out of three of his classic cars.

Episode

7

-

Buddha the Biting Pit Bull!; Epilepsy...

A woman is bitten in the face by a rescue dog; an epileptic woman says she bailed on a lease because her roommate's erratic behavior caused her anxiety.

Episode

6

-

Tragic Pregnancy; Loving, Cheating an...

A woman who sufferd a miscarriage and is sent vindictive texts by a jealous ex, takes out her anger on the baby's father; a woman admits she continued to lend her cheating ex-boyfriend money; he says she is a controlling gift-giver.

Episode

5

-

Pregnant Ex-Fiance Woes; Starter Bike...

A woman denies owing her ex-fiance's parents for a minivan; a motorcycle-buyer says the seller's ex-wife refused to hand over the title.

Episode

4

-

Family Heirloom Goes Missing; Own It ...
If You Like Hot Bench, Then Try...